I love that a museum can still feel like home wherever you are in the world!
Yes, that's right my friends! If you're an art enthusiast, heading out to a museum to admire the great works of art this world's blessed with is the following way to awaken your inner artist. But even more so, a museum full of solely Japanese woodblock art would be every print-maker or ukiyo-e collector's dream. So if you're a Japanese woodblock enthusiast, here are five museums you should definitely visit at least once in your lifetime!
Japan Ukiyo-e Museum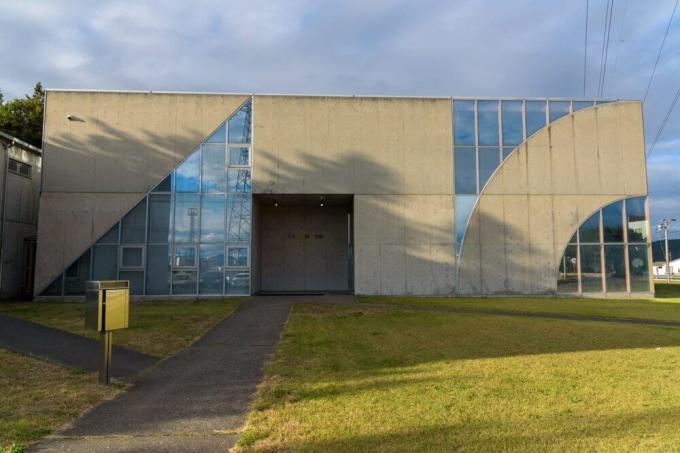 First up, would be none other than the Japan Ukiyo-e Museum. Located in Matsumoto, Japan, this museum houses one of the largest private ukiyo-e collections as of today. There are over 100,000 prints resting in this museum, waiting for you to set your eyes on them [2]. You might be wondering, how did so many prints end up there altogether? Well, the entire collection belongs to the Sakai family, a family who were the true magnanimous patron of the arts. It all began with Yoshiaki Sakai, a wealthy merchant of the Edo period [2]. Several Japanese woodblock artists of the time, like Utagawa Hiroshige and Katsushika Hokusai, visited the family time and time again, leaving them with magnificent woodblock art pieces that they had painted. And over the years, this collection went from a dozen to thousands and now at above 100,000 ukiyo-e prints. And believe it or not, this collection is still growing today, with the 5th generation of the Sakai family that's living today, still adding rare prints to their collection as they find them [2].
And this collection is now on display in the Japan Ukiyo-e Museum, with each print preserved in its most original form. A member of the Sakai family, Nobuo Sakai is the curator at the museum. So to say the least, this well-kept collection of some of the most precious prints of artists like Hokusai and Hiroshige is worth a visit if you're into Japanese woodblock art!
Sumida Hokusai Museum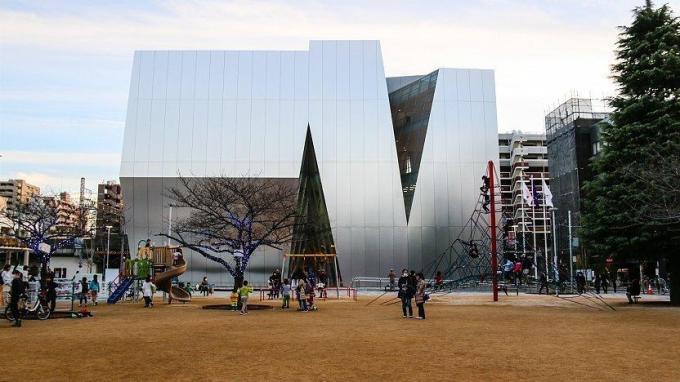 The next museum that should definitely make it to your top three is the Sumida Hokusai Museum. As you probably figured from the name, the museum is a tribute to the Edo period woodblock artist, Katsushika Hokusai – the artist we know best for his The Great Wave Off Kanagawa and is located at his birthplace, Sumida [6]. A ward of great politicians, philosophers, religious leaders, writers, and artists, Katsushika Hokusai spent the most time in Sumida, even though he moved around a lot during his life. Hence, it only makes sense to have this museum in this land of art. As a matter of fact, Hokusai's name "Katsushika" also comes from the Katsushika district, where Sumida is located [6]. The museum holds a plethora of high-definition real-size replicas of Hokusai's works from his 90-year life [8]. The museum has an aluminum exterior and several small buildings instead of one large one to preserve prints and prevent them from becoming old and rotten [6]. Pretty thoughtful, don't you think? But that's not all.
Even the logo of the museum itself is also a tribute to our guy Hokusai. A replica of the sand lining in Red Fuji, the symbol represents the energy and vibrance of all of Hokusai's works [8]. The logo colors are black, gray, white, and silver. Its main color, ink black, looks like a woodblock print carving of sorts if you look closely enough!
Kamigata Ukiyo-e Museum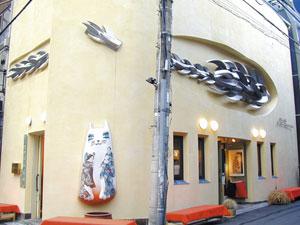 Following comes to the Kamigata Ukiyo-e Museum – a museum solely for Kamigata prints, or Japanese woodblock prints that had been made in Osaka, Japan. Rightfully so, this museum is also located in Osaka [1]. So why just Osaka? Well, during the Edo period in Japan, the Osaka-Kyoto region was way ahead of the others when it came to art and culture. And the prints that they brought forth were way more realistic and polished than those in the Edo area surrounding, with a prime focus on kabuki actors [7]. With its ancient-looking hallways and distinctly Edo vibe, the museum has about 50 permanent prints that remain a constant, with others bought and sold [1]. So if you're into Yakusha-e or kabuki actor prints, this little place is your heaven!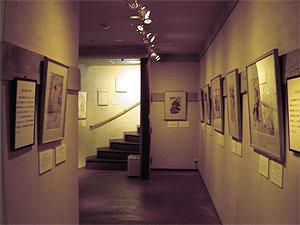 In fact, the museum even offers three separate kinds of courses for you to learn beginner, intermediate, and advanced Japanese woodblock art, at a very reasonable rate. So this could also be a prime destination if you wish to learn Japanese woodblock art [4].
Ota Memorial Museum of Art
Further down the list, after these top three would be the Ota Memorial Museum of Art – a palace full of Japanese woodblock art by a single artist – the late Seizō OtaⅤ [5]. Though his works never made it to the public eye during his lifetime, his family decided to bring them into the public eye as part of their tribute and memorial to him. Considering it's the work of one artist, you might think it'd be just a few prints. But that's where you're wrong [5]. The museum houses over 14,000 prints within its walls! This museum has been one of the most visited ones by foreigners and Japanese people alike. In fact, the family has also set up a fund to fuel any ukiyo-e research in any part of the world, but especially Japan. So if you do visit Japan, this museum is a must-visit for you to take in the aura of what Japan's woodblock art looked like during the 20th century [5].
Fujisawa Ukiyo-e Museum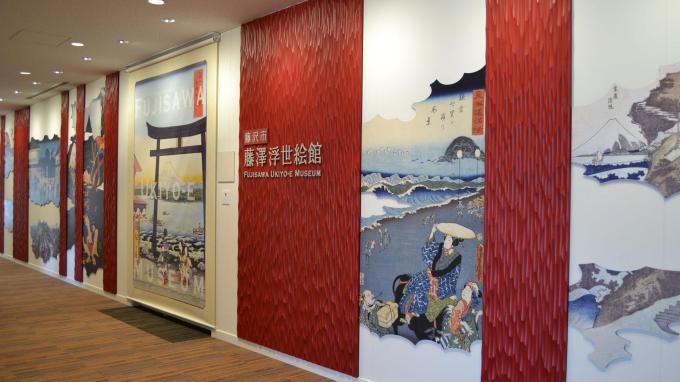 Last but not least, would be the free museum of Fujisawa – Fujisawa Ukiyo-e Museum. A rather small town, Fujisawa has been the center of several ukiyo-e prints, hence this museum would be a pleasant surprise to any and every ukiyo-e lover. The 6th station of the Tokaido road between Tokyo and Osaka was Fujisawa [3]. Many travelers from the Edo period used to stop at the station to take a rest and buy fish from the lavish fish market in the town. So it became the subject of many ukiyo-e prints. So it makes sense to have a free museum at the location! And this is very well-extended beyond the Edo period, right to the time of the Shin-Hanga museum [3]. So if you wish to catch a glimpse of the 6th station – a small, famous traveler destination, you might want to stop by this museum.
All in all, museums are a great place to awaken your interest in something, and to gain inspiration, especially for ukiyo-e. Thus, you might even want to visit your nearest ukiyo-e museum before buying, collecting, or even making a Japanese woodblock print of your own!
Links
[1] "What Are Kamigata?" Artelino, https://www.artelino.com/articles/kamigata.asp.
[2] "Japanese Art: Introducing the World's Largest Ukiyo-e Museum: Useful Travel Information on Matsumoto by Alpico Group Official Website." ALPICO GROUP Official Website, https://www.alpico.co.jp/en/travelog/post/discover-the-worlds-largest-collection-of-ukiyo-e/.
[3] Heidary, Mathilde. "A Free Museum Dedicated to Ukiyo-e in Fujisawa." VOYAPON, 1 Nov. 2020, https://voyapon.com/fujisawa-ukiyoe-museum/.
[4] "Kamigata Ukiyoe Museum." OSAKA INFO, https://osaka-info.jp/en/spot/kamigata-ukiyoe-museum/.
[5] "About the Museum." About the Museum | 太田記念美術館 Ota Memorial Museum of Art, http://www.ukiyoe-ota-muse.jp/eng/about.
[6] Organization, Japan National Tourism. "Hokusai Museum: Travel Japan (Japan National Tourism Organization)." Travel Japan, https://www.japan.travel/en/spot/1345/.
[7] "上方浮世絵館." English | 上方浮世絵館, http://kamigata.jp/kmgt/english/.
[8] "ロゴマーク." すみだ北斎美術館 – ロゴマーク, https://hokusai-museum.jp/modules/Page/pages/view/1042.