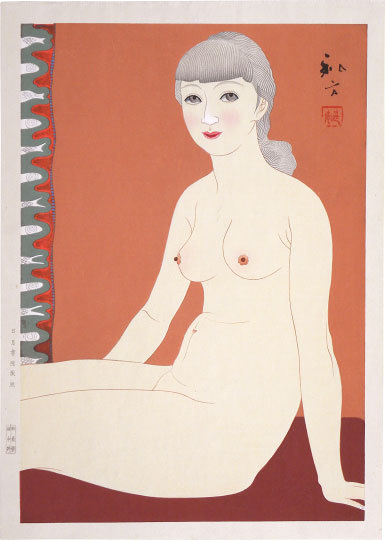 Title : Album of Contemporary Beauties: Clear Eyes (Kindai Reijin Gafu)
Artist : Taki Shuho
Date : 1936
Details : More information...
Source : Scholten Japanese Art
Browse all 853 prints...
Description : in original protective folder with washi cover; signed Shuho with artist's seal (possibly) Jindo, with publisher's information on the left-hand margin, Nichigetsu Shoin zo han (publisher Nichigetsu Shoin) hori Morien (carver Moriei) suri Nakai (printer Nakai), ca. 1936
Download Image
Do you have a similar woodblock print to sell?
Get in touch with us for a preliminary estimate and for information in selling your woodblock print.
GET IN TOUCH