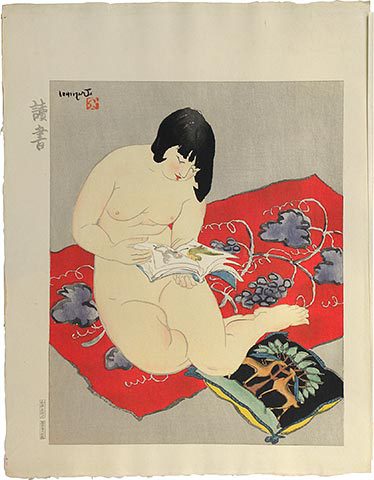 Title : Ten Types of Female Nudes: Reading (Rajo jusshu: Dokusho)
Artist : Ishikawa Toraji
Date : 1934
Details : More information...
Source : Scholten Japanese Art
Browse all 853 prints...
Description : mica background; signed at upper left, Ishikawa, with artist's red seal Tora, the print title, Dokusho in upper left margin, block carver's seal at lower left margin, Yamagishi Kazue to, and printer's seal Urushibara Eijiro, and with artist's watermark on bottom right within the composition, Ishikawa Toraji, with tissue paper cover; published by the artist, ca. 1934, lifetime edition
Download Image
Do you have a similar woodblock print to sell?
Get in touch with us for a preliminary estimate and for information in selling your woodblock print.
GET IN TOUCH