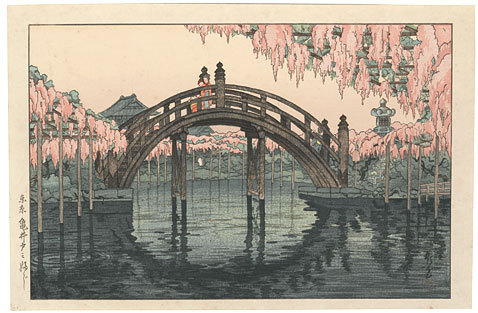 Title : Wisteria at Kameido, Tokyo (Tokyo, Kameido no Fuji)
Artist : Style Yoshida
Date : 1930
Details : More information...
Source : Scholten Japanese Art
Browse all 853 prints...
Description : Signature unread (Asa or Cho?), with red publisher's seal Takemura (Takemura Hideo). The title on the left-hand margin, Tokyo Kameido no fuji. Paper label in English affixed to verso, H. Takemura & Co., 45 Sanchome Bentendori, Yokohama, Japan. Ca. 1930's.
Download Image
Do you have a similar woodblock print to sell?
Get in touch with us for a preliminary estimate and for information in selling your woodblock print.
GET IN TOUCH