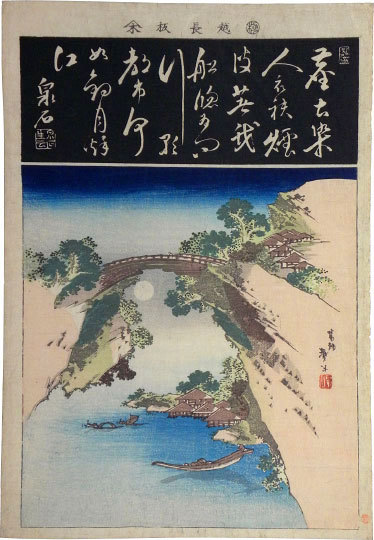 Title : Monkey Bridge (Saruhashi)
Artist : Katsushika Taito II
Date : 1830
Details : More information...
Source : Scholten Japanese Art
Browse all 853 prints...
Description : with publisher's information across the top Etchoban (Echigoya Chohachi) with mark Ki, signed Katsushika Taito, with artist's seal, and censor's seal Kiwame; the ishizuri-e (lit. 'stone-printed picture') poem across the top signed Senseki; collector's seal at the bottom right corner unidentified, ca. 1830-35
Download Image
Do you have a similar woodblock print to sell?
Get in touch with us for a preliminary estimate and for information in selling your woodblock print.
GET IN TOUCH