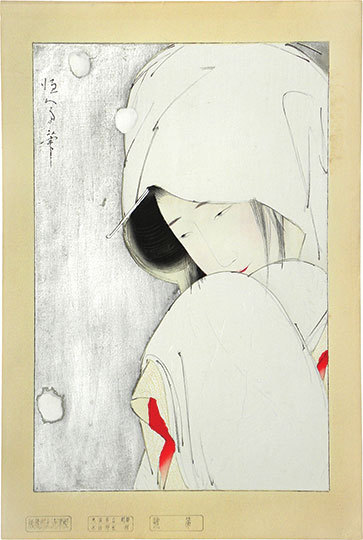 Title : Heron Maiden (Sagi Musume)
Artist : Kitano Tsunetomi
Date : 1925
Details : More information...
Source : Scholten Japanese Art
Browse all 853 prints...
Description : with nearly pristine mica ground and hand-applied gofun; signed at upper left, Tsunetomi hitsu, with three cartouches along bottom margin, go-dai (not numbered); with carver and printer's information, Chokoku Yamana Yoshimitsu (carved by Yamana Yoshimitsu), suri Matsuno Kassui (printed by Matsuno Kassui), and publisher's information Nezu Seitaro zohan (copyright of Nezu Seitaro), ca. 1925
Download Image
Do you have a similar woodblock print to sell?
Get in touch with us for a preliminary estimate and for information in selling your woodblock print.
GET IN TOUCH