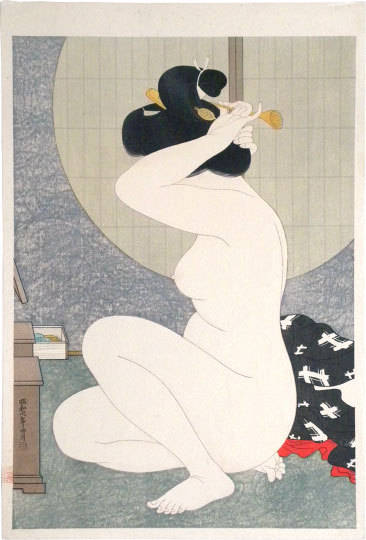 Title : Arranging Hair Before a Window
Artist : Hirano Hakuho
Date : 1932
Details : More information...
Source : Scholten Japanese Art
Browse all 853 prints...
Description : a nude before a kyodai arranges her hair, in the background are shoji doors with a circular window; dated Showa shichinen shigatsu with artist's square seal Haku, and collector's seal on the margin (partially read), Matsu no ju or suenokotobuki; published by Watanabe ca. 1932
Download Image
Do you have a similar woodblock print to sell?
Get in touch with us for a preliminary estimate and for information in selling your woodblock print.
GET IN TOUCH