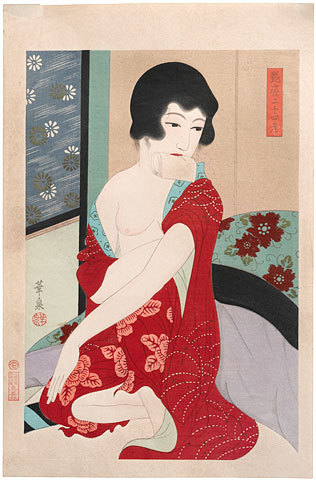 Title : Twenty-Four Figures of Charming Women: Tissues (Suggested Title) (Adesugata Nijushiko: Kaishi)
Artist : Ohira Kasen
Date : 1931
Details : More information...
Source : Scholten Japanese Art
Browse all 853 prints...
Description : The red cartouche at the upper right corner with the series title, Adesugata nijushiko. Signed at lower left, Kasen, with artist's red circular seal, Kasen. Publisher's mark Yamase, and seal at lower left corner, Hanken shoyu fukyo fukusei, Shinbisha (copyright ownership, reproduction not allowed, Shinbisha), ca. 1931.
Download Image
Do you have a similar woodblock print to sell?
Get in touch with us for a preliminary estimate and for information in selling your woodblock print.
GET IN TOUCH