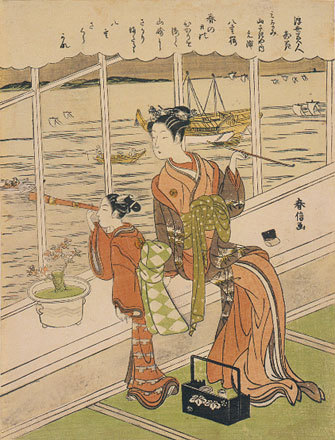 Title : Popular Beauties with Flowers: The Double-Flowered Cherry ((Ukiyo bijin yosebana: Yaezakura))
Artist : Harushige
Details : More information...
Source : Scholten Japanese Art
Browse all 853 prints...
Description : the courtesan Motoura of Yamazaki-ya in the Shinagawa licensed quarter seated at a window with her kamuro looking through a telescope at harbor; the text at the top reads: Haru no hi no hikari o soete Yamazaki ni sakari mataruru yaezakura kana
Download Image
Do you have a similar woodblock print to sell?
Get in touch with us for a preliminary estimate and for information in selling your woodblock print.
GET IN TOUCH