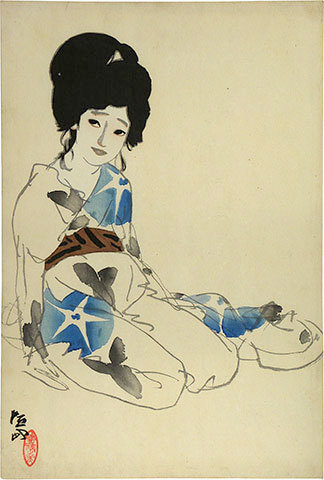 Title : Seasons of the Pleasure Quarters: no. 3, Horie in Summer, Twilight (Kuruwa no shunju: Dai-san natsu [Horie], Yugure)
Artist : Kitano Tsunetomi
Details : More information...
Source : Scholten Japanese Art
Browse all 853 prints...
Description : a seated beauty wearing a yukata decorated with blue morning glories; signed Tsunetomi with seal Higuchi-to (carved by Higuchi), published by Nakajima Jutaro (Nakajima Seikado, Tokyo) in a numbered limited edition of 500
Download Image
Do you have a similar woodblock print to sell?
Get in touch with us for a preliminary estimate and for information in selling your woodblock print.
GET IN TOUCH