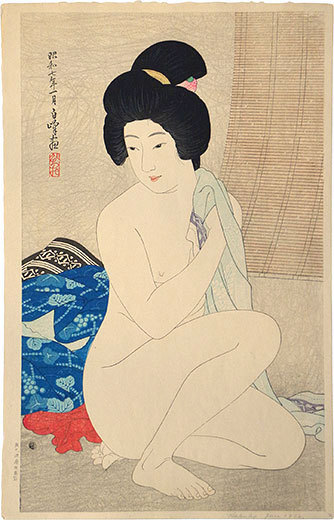 Title : After the Bath (Yuagari)
Artist : Hirano Hakuho
Date : 1932
Details : More information...
Source : Scholten Japanese Art
Browse all 853 prints...
Description : dated and signed at upper right, Showa nananen ichigatsu Hakuho ga (Showa 7 [1932], 1st month, by Hakuho), with artist's seal below, with publisher's circular Watanabe seal at lower left and in margin, Hanmoto Watanabe hangaten (Publisher Watanabe print shop), inscribed in pencil on the bottom margin, Hakuho Jan 1932, with hand-numbered limited edition seal on verso, Ichi-hyaku mai kagiri zeppan, dai junana ban (100 limited edition, number 17)
Download Image
Do you have a similar woodblock print to sell?
Get in touch with us for a preliminary estimate and for information in selling your woodblock print.
GET IN TOUCH