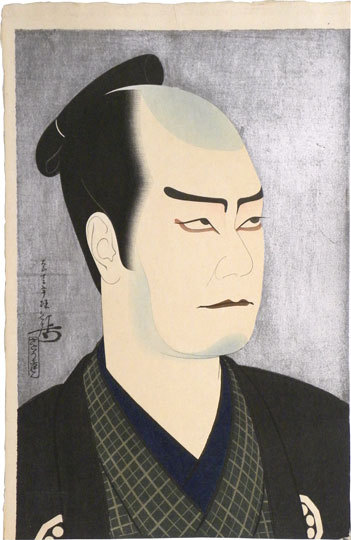 Title : Kanpo's Creative Prints, First Series: Ichikawa Sadanji II as Hishikawa Gengobei (Kanpo Sosaku-Hanga Shu Daiishu: Ichikawa Sadanji II)
Artist : Yoshikawa Kanpo
Date : 1923
Details : More information...
Source : Scholten Japanese Art
Browse all 853 prints...
Description : with mica ground; dated Taisho juninen aki (Taisho 12 [1923], autumn), and signed, KanpoSato Sho Han (Sato Shotaro), limited edition label numbered on verso, Shusatsu nihyaku mai zeppan Sato Shotaro Kaiban, Kyoto shi Nawate dori benzaiten cho dai hachijuichi go (200 limited edition, produced by Sato Shotaro, followed by the publisher's Kyoto address, print number 81).
Download Image
Do you have a similar woodblock print to sell?
Get in touch with us for a preliminary estimate and for information in selling your woodblock print.
GET IN TOUCH