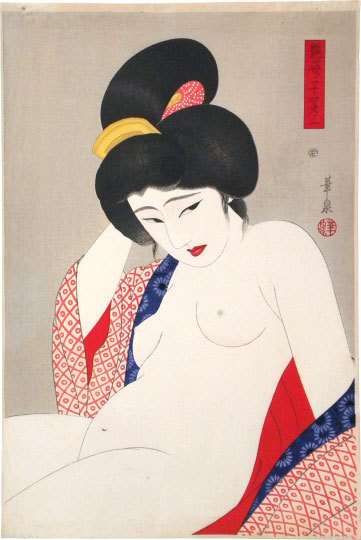 Title : Twenty-Four Figures of Charming Women: Two, After a Bath (suggested title) (Adesugata Nijushiko: Yuagari, Ni)
Artist : Ohira Kasen
Date : 1931
Details : More information...
Source : Scholten Japanese Art
Browse all 853 prints...
Description : a seated nude leans back with her arms partially through the sleeves of a red and white patterned under-robe, with karazuri (blind-printing) on her nose and collar bone; the red cartouche at the upper right corner with the series title, Adesugata nijushiko; signed at lower left, Kasen, with artist's red circular seal, Kasen; publisher's mark Yamase, ca. 1931
Download Image
Do you have a similar woodblock print to sell?
Get in touch with us for a preliminary estimate and for information in selling your woodblock print.
GET IN TOUCH