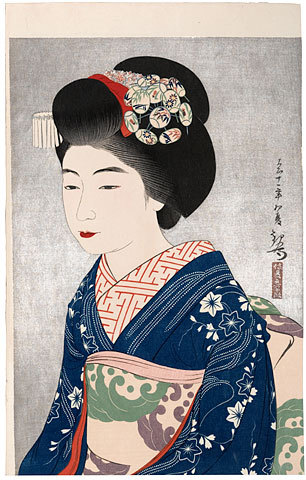 Title : Kanpo's Creative Prints, First Series: The Geisha Hinazo (Kanpo Sosaku-Hanga Shu Daiishu: Hinazo)
Artist : Yoshikawa Kanpo
Date : 1922
Details : More information...
Source : Scholten Japanese Art
Browse all 853 prints...
Description : Dated and signed, Taisho juichinen shoka (Taisho 11 [1922], early summer), Kanpo, followed by the square rectangular publisher's seal, Sato Sho han (Sato Shotaro print). The reverse with limited edition label, Shusatsu nihyaku mai zeppan, Sato Shotaro kaiban, Kyoto-shi nawate dori benzai cho, dai goju go (200 limited edition, produced by Sato Shotaro, followed by the publisher's Kyoto address, print number 50). Blocks carved by Maeda (probably Kentaro) and printed by Oiwa Tokuzo.
Download Image
Do you have a similar woodblock print to sell?
Get in touch with us for a preliminary estimate and for information in selling your woodblock print.
GET IN TOUCH