Aka 赤 あか – the Japanese word for red is so much more than just a color in Japanese culture. From shrines to temples, and even the clothing of Shinto priests, everything has a touch of red to it. As a matter of fact, Japan's national flag has a red sun right in the center of it, surrounded by white – a theme that most festivals in Japan also follow. And this lucky color also made its way to the Japanese art world, particularly in Japanese woodblock art or ukiyo-e [3].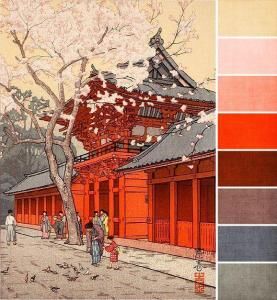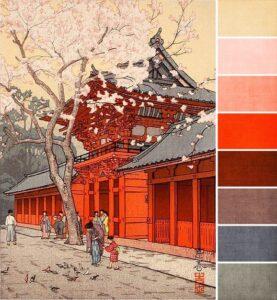 Although ukiyo-e pieces throughout history have always been laced with several colors in a single piece (see more about our color series on Japanese woodblock here), Japanese woodblock artists often preferred to add a touch of red to add some intensity and tension to their pieces. So much so that red prints were named after the red tones that they used. The most prevalent among these was Beni-e i.e. Japanese woodblock prints that had a pinkish rose red (safflower) touch to them. It must be noted that the safflower dye was a pretty rich pigment in itself [3]. Hence, artists preferred to use it in small amounts to amplify their art piece and bring it to life. So let's look into the wonders of red in Japanese woodblock prints!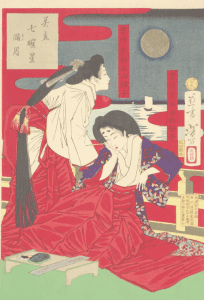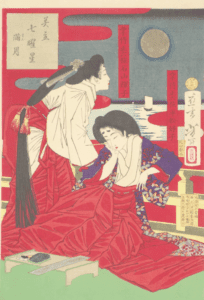 Ever since the Edo Period and following, the shades of red that characterized Japanese woodblock art have changed dramatically. The red was often quite pale in the 1700s prints by Suzuki Harunobu or Tōshūsai Sharaku but became deeper and brighter as Utagawa Hiroshige and Utagawa Kunisada began incorporating these tones into their woodblock art. Then further came the Meiji period and Yoshitoshi, and that's when red became particularly bright and loud [1].
So what did this significant red in Beni-e prints symbolize? Well, largely three things: emphasizing a particular aspect of the imagery, representing weather or time, and clothing and jewelry ornaments [2]. Let's look into each of them.
First up, would be the emphasis. Here's a print from Katsushika Hokusai's series –36 Views of Mt. Fuji – Red Fuji. What you see here is Mt. Fuji in its full glory, laced with bushes on the bottom. With the mountain in the foreground and clouds at the back of the sky, the white fluffy clouds seem to be merging with the snow-capped tip of the mountain. Furthermore, the size of Mt. Fuji is well elaborated by painting the forest canopy around it in a shrunken perspective. It's very clear when you look at the piece, that Mt. Fuji is the center of attention. And not just because of its amplified size in the image, but, drum roll, please! The red tones that were used to craft it [2].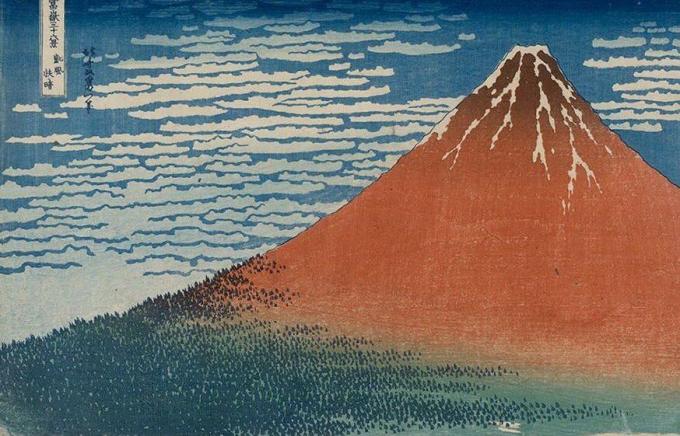 Then, of course, comes how ukiyo-e prints utilize red to represent the weather and time. More often than not, the skyline in ukiyo-e prints was lined with a subtle safflower red to express moments right before sunrise. For example, in Utagawa Hiroshige's One Hundred Famous Views of Edo -Asakusa Ricefields and Torinomachi Festival, he employed what was known as Ichimonjibokashi or one-line shading to emphasize an incoming sunrise from behind the mountain[2].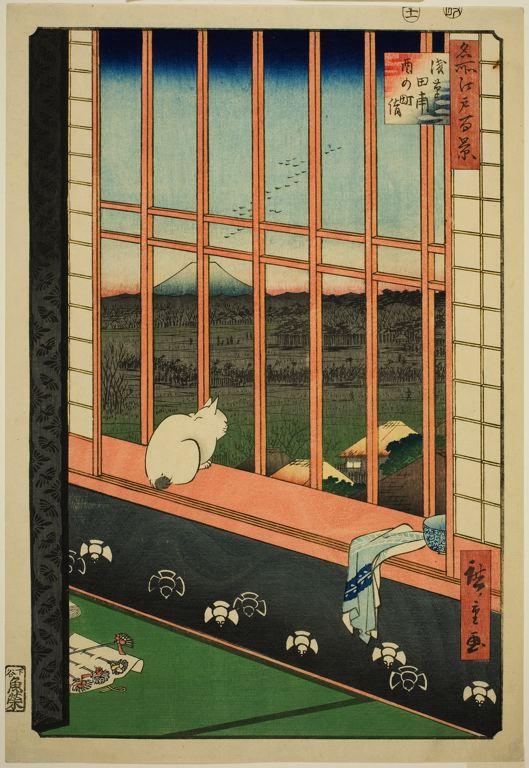 And last but not the least, there comes the ornaments and accessories for beautiful women. Back in the Edo period, there were laws in place that limited the luxuries of the public, particularly their jewelry and ornaments of beauty. So the people found ways to work around exactly that, and Japanese woodblock prints represented the beauty of these ornaments by emphasizing them with red. Kimono designs often had red in them and so did hair ornaments [2].
All in all, it's safe to say that ukiyo-e does justice to the significance of the red color to the Japanese nation, making these red prints often more valuable than others in the buying and selling market of Japanese woodblock art.
To find original Edo-period red woodblock prints to purchase of your own, be sure to browse our current selection for sale by clicking here.
Do you have a beautiful RED woodblock print for sale, say maybe an original Hokusai Red Fuji?! Please get in touch if you would like an appraisal or any help selling your woodblock print. Click HERE.
Links
[1] "Red -the History of Ukiyo-e from the Perspective of Color." Red -The History of Ukiyo-e from the Perspective of Color | 太田記念美術館 Ota Memorial Museum of Art, http://www.ukiyoe-ota-muse.jp/exhibition-eng/red-eng.
[2] The Red of Ukiyo-e – Hiroshige. https://tokaido-hiroshige.jp/press/docs/The_Red_of_Ukiyo-e_EN_press_0114.pdf.
[3] "Red Lead: Ukiyo-e Colorant." CAMEO, https://cameo.mfa.org/wiki/Category:Red_lead:_Ukiyo-e_colorant.