Why collect Japanese woodblock prints? You probably thought that to yourself as you opened our website. Well to answer that, the bigger question would be, why do we collect anything at all? We all have our little collections of something after all, don't we? Books, pretty pens, oil paintings, etc., etc. We collect them because we like them… or maybe it means something to us. An emotional attachment perhaps or something that has monetary value? Woodblock prints, or ukiyo-e as the Japanese would call them, are no different.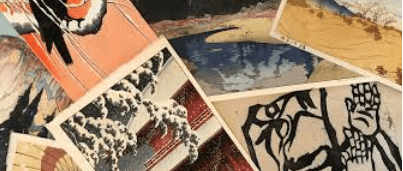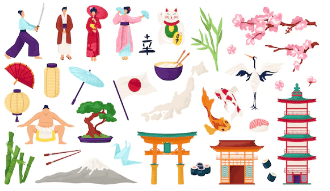 The Japanese culture is rich and vast in itself. Their originality from the Oirans and Geishas of the entertainment district, to the importance they place on sakura cherry blossom trees or how they associate red spider lilies with representing a final goodbye, comes with a unique sense of self, especially their art and artists [2]. 
Speaking of Japanese woodblock artists, did you know that Hiroshige started woodblock art when he was 14, and his landscapes literally shaped western Impressionist masterpieces like those of Van Gogh followed by Claude Monet, Mary Cassat, and many others? Or that Hokusai, the father of the Great Wave Off Kanagawa, was struck by lightning when he was 50, but still didn't quit making art despite his injuries [2]? In fact, he went on to complete 30,000 pieces in his lifetime. This goes to say that if you're a fan of art and design and an avid appreciator of cultural diversity, Japanese woodblock art is definitely a valuable collectible for you [2]! So friends of Japanese prints, let's dive a little deeper into what adds value to Japanese woodblock prints, making them so collectible.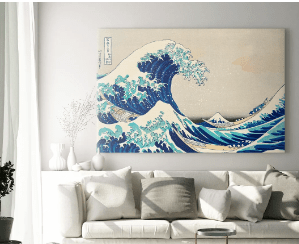 While you may assume that since the first famous ukiyo-e masterpieces dated as far back as the Edo period of the 17th century, these pieces might be hard to find. Wrong! Whether printed centuries ago or yesterday, these prints are often made in the form of a series i.e. a bunch of woodblock prints is brought to life all at once [1]. So if you're after a specific print in original, that might be rare and hard to find. But generally speaking, there might be several prints from remarkable artists out there in one particular category. You'll find prints in a wide range of sensibilities – beautiful landscapes, women, sex, fish, history, cats, you name it [1]. You'll find thousands of prints that might appeal to your eye and have survived massive floods, wars, fires, and earthquakes, basically, they've seen it all. So the fact of the matter is, even if you own one piece, provided you keep it safe and sound, it'd probably outlive you.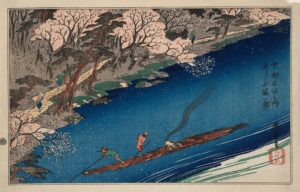 So to sum up, Japanese woodblock prints are highly collectible and valuable owing to them ticking these checkboxes:
How famous is the artist and did he have any long-lasting legacy? Ie, Hokusai, Hiroshige, Utamaro, and the list goes on.
How much has the piece survived i.e the age?  Woodblock print value is especially influenced on quality of the print.  Are the colors vivid?  Are there little tears in the paper or is it sound?  Are the margins trimmed or completely in tact?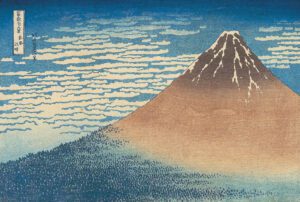 Do the pieces span over several categories i.e. landscape, human figures, controversial topics, etc?  Often times it is not the mundane prints that attract the avid collector.  For example, look at the Kuniyoshi prints of big fish, giant cats, and odd creatures.  The oddities are often collectible in woodblock prints.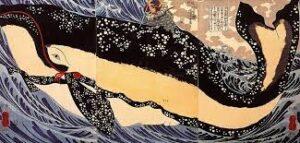 Does the design and vibrancy of a print please the human eye?  Opposite of the oddities, there are classic works by Hokusai, Hiroshige, and Utamaro that just have the classic, long lasting aesthetic that has attracted collectors for generations.
As mentioned above, ukiyo-e has managed to be one of the few sets of masterpieces hit the jackpot with each of these questions over the years, which not only adds value to these thin pieces of Japanese mulberry wood paper, but has sparked the interest of many art collectors in adding these to their galleries [1].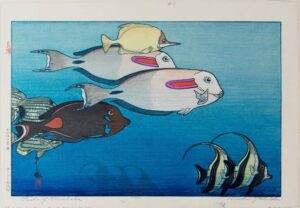 Let's not forget though, since there are so many times that each of these prints has been replicated, it gives more room for you to get carried away by replicas when looking to buy Japanese woodblock art pieces. So we advise you to delve deeper into the ins and outs of buying and selling Japanese woodblock art. You'll find tons of resources on people's past experiences with how to find the right collectible and valuable ukiyo-e for you right here on our website.  Search our archives of Hiroshige, Hokusai, Yoshitoshi, Hiroshi Yoshida, Kawase Hasui, and more.  Also, check our blog frequently for tips, and of course search our prints currently for sale updated on our site frequently.  Happy collecting!
Links
[2] "Japanese Woodblock Prints: Everything You Need to Know." Invaluable, 19 June 2019, https://www.invaluable.com/blog/japanese-woodblock-prints/. 
[3] "'Seven Masters: 20th-Century Japanese Woodblock Prints' Now at Citadelle." The Canadian Record, 6 Feb. 2022, https://www.canadianrecord.com/community/seven-masters-20th-century-japanese-woodblock-prints-now-citadelle. 
[4] "About the Gallery." Japanese Woodblock Print, https://woodblock-print.eu/galerie-bei-der-oper.html. 
[5] "The Great Wave off Kanagawa by Katsushika Hokusai." Vallery Vydentity, 25 June 2021, https://vallery.store/en/product/the-great-wave-off-kanagawa-by-katsushika-hokusai/.