In the early 1850s, Japan opened its borders to trade with the rest of the world, ending 200-year-long seclusion. And that's when Japanese goods and art, especially Ukiyo-e or Japanese woodblock art began to flow into places like Paris, the US, London, etc, inspiring Western Impressionist artists to transition to a more Japanese style of expression. While these pieces originally served as a reminiscence of the Edo period's culture and values from the 16th and 17th centuries, several Japanese artists also took up woodblock art in the 19th and 20th centuries. And especially during these times, the Ukiyo-e influenced several art movements from Impressionism and Cubism to Pop Art and Manga comics, keeping the art form's fame even in the 21st century [1]. So let's look at some household names, from the Edo period to today, who brought Japanese woodblock art to life in the first place.
Katsushika Hokusai (1760–1849) [3]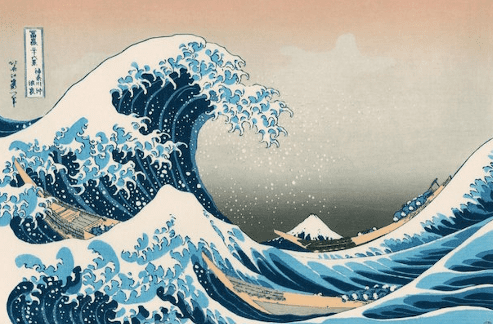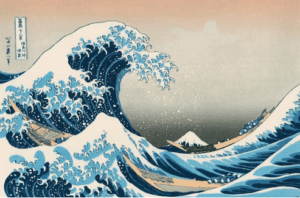 First up, of course, is the artist who brought The Great Wave Off Kanagawa into this world, none other than Katsushika Hokusai. An individual who started creating woodblock art at the age of 6, 12-year-old Hokusai was already proficient in woodcarving. Hence, by the age of 19, his first prints had already come out in the public eye – based on kabuki actors. Overall, his art is usually based on landscapes portraying different weathers and seasons, and how people plow through harsh conditions.
Utagawa Hiroshige (1797–1858) [3]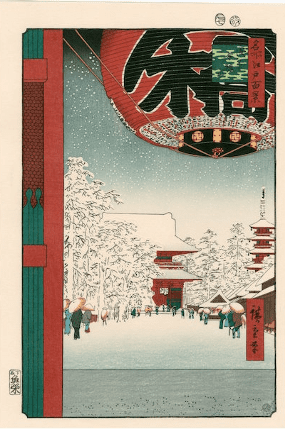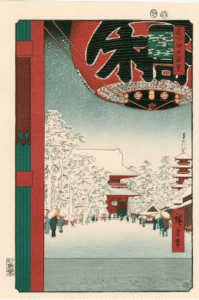 Born during the Edo period in what is now Tokyo under the name Andō Tokutarō, Utagawa Hiroshige became an orphan at the age of 13. At the time, he was taken in by artist Utagawa Toyohiro and began learning art forms from there on out. By the time he was 15, Hiroshige was so deep into the world of art, that he decided to change his name from Andō Tokutarō to Utagawa Hiroshige to honor his art mentor. He is best known for his woodblock art to be in the form of series and some of his best works include: "Thirty-six Views of Mt. Fuji," circa 1831; "The 55 Stations of the Tokaido," circa 1833-34; "Sixty-Nine Stations of the Kiso Road," circa 1835; and "One Hundred Views of Edo", circa 1856.
Kitagawa Utamaro (1753–1806) [3]
Bit of a mystery artist, there's very little that's known about Kitagawa Utamaro's life in general. He, too, started to learn art at a very young age and studied under artist Toriyama Seiken. His first artwork was a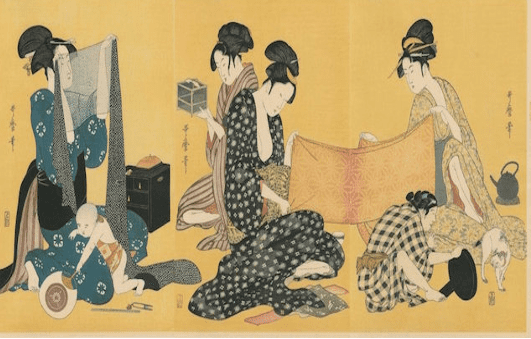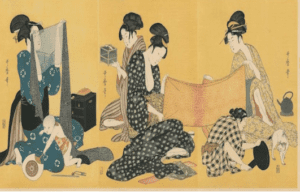 playbook with imagery of kabuki actors, back in his 20s. What makes him stand out though, is that he is known to be one of the first ukiyo-e artists who were bold enough to have created sensual woodblock art, showing just a single woman in it. In addition, his artworks showed a more realistic human flesh representation than the ones before him.
Suzuki Harunobu (1724-1770) [2]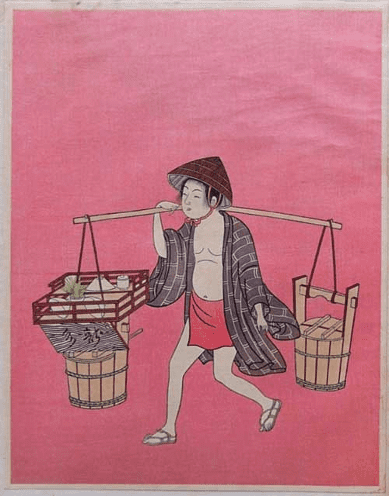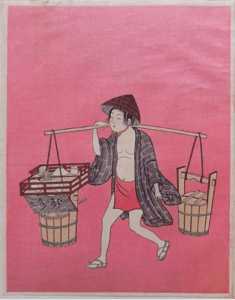 Another one of the very influential and innovative household names of woodblock art was Suzuki Harunobu. The artist was the first to introduce full-color paintings i.e. a backdrop fully infused with bright colors. His general woodblock art involved paintings from the era that he lived in, representing the lives of ordinary individuals. However, he was often employed by wealthy samurai of Japan to paint specialized pieces of kabuki actors, courtesans, sumo wrestlers, erotica, etc. for them.
Tsukioka Yoshitoshi (1839–92) [1]
Often known as the last great master of original Japanese woodblock art, Tsukioka Yoshitoshi was creating woodblock art back when photography and other mass printing art forms had begun taking over Japanese woodblock art i.e. the time of the Shin-Hanga movement. Amongst his art pieces, the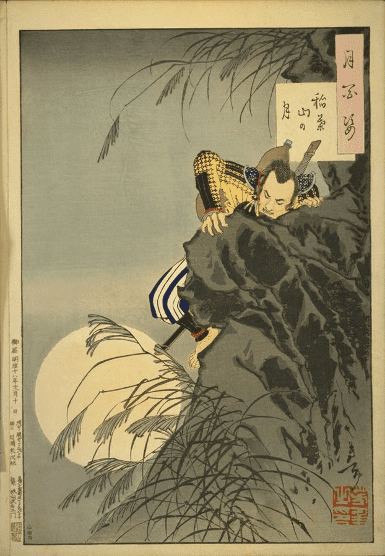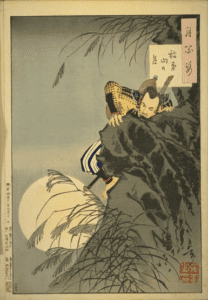 most well-known is the series 100 Aspects of the Moon. With a lunar theme, the series illustrates anything from warriors to a view from the eyes of a Geisha in the entertainment district to legendary heroes, all sheltered by the moon.
Ohara Koson (1877-1945) [3]
Born as Ohara Matao, Ohara Koson studied under the notable artist Sukuzi Koson, and hence changed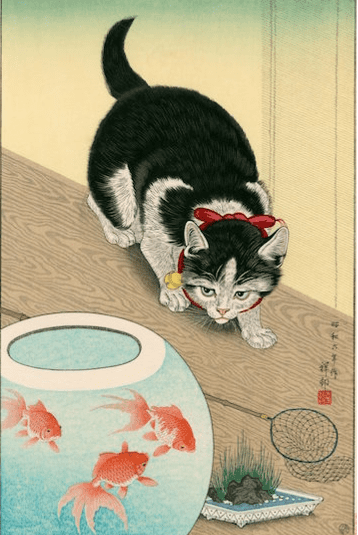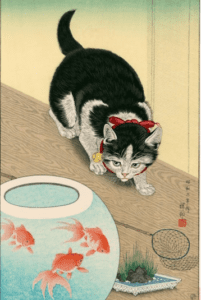 his name to Ohara Koson as a sign of respect. Professionally speaking, his woodblock art gained the most recognition for its kacho-e style i.e. featuring birds and flowers in his masterpieces. Towards the end of his life, the artist also spent a while teaching at the Tokyo School of Fine Arts in an attempt to transfer his knowledge to younglings and keep woodblock art alive in the face of mass production art techniques such as photography, that had started taking over at the time.
Utagawa Kunisada (1786-1865) [2]
Another name from the Edo Period, Utagawa Kunisada was one of the richer woodblock artists, having produced over 25,000 pieces during his lifetime. While the styles of his paintings varied remarkably, the most famous ones usually focused on somo-wrestlers or were portraits of famous actors at the time such as this triptych that he made somewhere in the 1860s.
Kobayashi Kiyochika (1847-1915) [2]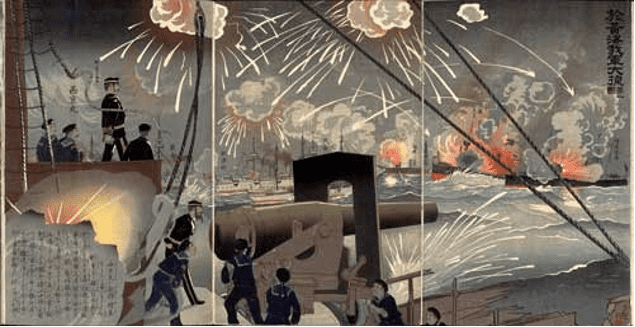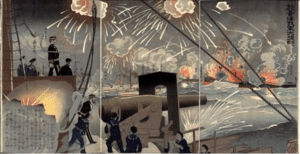 A rather unsung hero, Kobayashi Kiyochika usually depicted various battle scenes with remarkable accuracy when it came to weaponry, uniforms, and the scene on its own since he drew from real-world historic events. This doesn't go to say that his artwork was stale and boring, but in fact, is an appreciation of how he managed to take a creative leap and blended ukiyo-e with real-life events.
Hashiguchi Goyō (1880–1921) [1]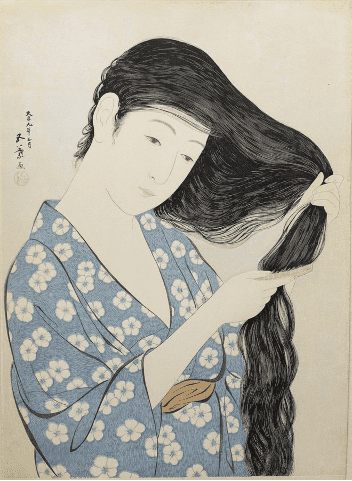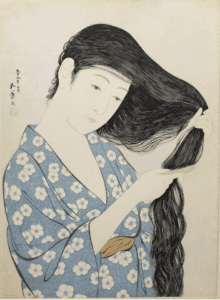 Not really an original ukiyo-e painter, Hashiguchi Goyo gave up a career in Western oil painting to revive dying Japanese woodblock art at the time of the Shin-Hanga movement. With his experience in impressionist art, he brought forth unique woodblock art pieces in the 20th century, with a tint of the West lacing every single of his Eastern woodblock art pieces. To say the least, this short-lived artist's meticulousness and dedication to reviving Japanese woodblock art played a key role in bringing back ukiyo-e from the dead.
Haruyo Morita (1945-present) [3]
Now onto a living Japanese woodblock artist, one that you rarely find nowadays, Haruyo Morita is the 'youngster' of the Japanese woodblock legends line so to speak. Born in the Katsushika district of Japan, the artist was primarily a kimono artist. Nevertheless, having studied under Master Hasuki, more often than not, her woodblock art brings a "contemporary approach to traditional ukiyo-e woodblock art."
Have you known all of these artists before, or were some of these names new to you? Well, either way, keep a look out to find more of their works when you're out to buy Japanese woodblock art!
Find originals from the artists above, and beyond, by searching our current selection of woodblock prints for sale here.
Links
[1]Cowley, Ian. "10 Stunning Japanese Woodblock Prints." Cheap Printer Cartridges at Cartridge Save, Cartridge Save, 2 Feb. 2021, https://www.cartridgesave.co.uk/news/10-stunning-japanese-woodblock-prints/.
[2]"Five Greats of Japanese Woodblock Printing." Nippon.com, 30 May 2020, https://www.nippon.com/en/nipponblog/m00062/.
[3]Gusman, Jessie. "Jessie Gusman." Jasper52, Jessie Gusman Https://Www.jasper52.Com/Wp-Content/Uploads/2016/09/j52_logo.Png, 23 Feb. 2017, https://www.jasper52.com/blog/5-artists-every-japanese-woodblock-print-collector-should-know/.